Introduction
Please read these conditions of sale carefully before you place an order for products from our website.
In using this website you are deemed to have read and agreed to the following terms and conditions as laid out below. You confirm that you have read these terms and conditions and agree to adhere to them in their entirety when visiting or by placing an order through our website at folderking.co.uk. Please refrain from using this Website if you do not agree to these terms and conditions.
These terms and conditions apply to all our orders and are not subject to any other contractual terms defined by you, the buyer. By clicking in the box to accept our terms and conditions, you are accepting that these are the terms and conditions under which the sale is bound.
We may update or vary our terms and conditions from time to time, so check for periodic changes
Trading Details
When you order with us through this website, you are contracting with Printers UK Ltd (T/A Folder King), a limited liability company, incorporated in England & Wales.
Registered office: Cocker Avenue, Poulton Industrial Estate, Poulton-Le-Fylde, FY6 8JU.
Registered in the UK. Company Registration Number: 04646231
Email address: info@folderking.co.uk
Telephone number: 0845 301 4445
VAT registration number: 534 2667 43
Order process
The advertising of products on our website constitutes an "invitation to treat"; and your order for products constitutes a contractual offer.  No contract will come into force between you and ourselves unless and until we accept your order in accordance with the procedure detailed below.
In order to enter into a contract to purchase products from us, you will need to take the following steps:  Choose your product and selected your choice of quantity, paper finish and any additional finishing requirements. Add the products you wish to purchase to your shopping cart, and then proceed to the checkout; (ii) if you are a new customer, you must then create an account with us and log in; if you are an existing customer, you must enter your login details; (iii) once you are logged in, you must select your preferred method of delivery and confirm your order and your consent to these conditions of sale; (iv) you will be transferred to our secure payment website, which will handle your payment; (v) we will then send you an initial acknowledgment; and (vi) once we have checked whether we are able to meet your order, we will either send you an order confirmation (at which point your order will become a binding contract) or we will confirm by email that we are unable to meet your order.
We will not file a copy of these conditions of sale specifically in relation to your order.  We may update the version of these conditions of sale on the website from time to time, and we do not guarantee that the version you have agreed to will remain accessible.  We therefore recommend that you download, print and retain a copy of these conditions of sale for your records.
The only language in which we provide these conditions of sale is English.
Before you place your order, you will have the opportunity of identifying whether you have made any input errors by reviewing your details before the payment pages.  You may correct those input errors before placing your order by clicking the 'back' button on the page. We will print your artwork as it is supplied by yourself, whether uploaded, submitted using our online design tools, or as approved by you if created by us. We do not proof-read artwork and cannot not be held liable for any mistakes in the artwork and subsequent print.
Delivery
Every effort will be made to deliver on time, but any delivery day specified is a 'best endeavour' and no liability is accepted for any loss arising from delay or error in the delivery of the goods. We will do our very best to ensure that an order is dispatched on the day specified for overnight next day delivery, however we cannot give an exact delivery time guarantee, or assure that the delivery will be made at any indicated time, as we have to rely on third-party delivery company / courier. There is a high probability that the delivery times calculated on the website are maintained if orders are received by specified time and are based on customers supplying 'print ready' artwork. The number of working days specified for delivery at time of order commence once the customer has signed of their proof by email. Any delays in artwork not being supplied 'Print Ready', or delays in returning approval of your proof by email may lead to your order missing the desired delivery slot, especially for orders placed on our '3-5 day' service.
Folder King shall not be liable for any losses, costs, damages or expenses incurred by the customer or any other person or company arising directly or indirectly out of any failure to meet any estimated delivery date. We will not be under any liability whatsoever in the event that we are prevented or delayed from supplying or making delivery of any Goods by any reason or cause beyond our control, this includes any delay which may occur through international customs for items being delivered overseas.
Copyrighted Materials for Limited Use
This Site contains graphics, photographs, images, document layouts, artwork, text, fonts, software tools, and other information (referred to herein as"Content"). This Site and all Content are the copyrighted property of Printers UK Ltd., and/or its subsidiaries (referred to herein as "Folder King") or the copyrighted property of parties from whom Folder King has licensed such property. All rights in this Site and its Content are reserved worldwide. It is strictly prohibited to retain, copy, distribute, publish, or use any portion of the Content except as expressly allowed in these Terms of Use. Folder King reserves the right to add to, delete from, or modify any part of Content at any time without prior notice. Any modifications to Content, whether by You or Folder King remain the property of Folder King and its licensors.
The design tools provided on this Site employ a limited number of elements, including icons, images, fonts, colour schemes, and design effects. Folder King reserves the right to use all such elements and to make all such elements available for use by other parties in the future. You do not obtain any right or claim to any of the individual design elements through your creation of a folder design or your incorporation of a logo design into one or more products. Other Folder King customers may use the design tools to create designs that have similar or identical combinations of these elements and Folder King does not guarantee that your design will not have similarities to those designed and used by other parties. Folder King provides no warranty of any kind that designs created using the design tools will not infringe, or be subject to a claim of infringing, the trademark or other rights of another party. 
Use of Site
You are granted permission to access and use this Site and its Content for the sole purpose of preparing, evaluating, and ordering products or services solely through Folder King (referred to herein as "Products"). No other download, retention, use, publication, or distribution of any portion of the Content is authorised or permitted. Obtaining Products from Folder King does not entitle you to use any portion of Content apart from the finished Products as they are supplied by Folder King. All content on this site including Cutters and Template Designs remain the intellectual property of Folder King and and protected under international copyright.
You agree to use this Site in a responsible manner that is in full compliance with these Terms of Use and with your local laws and regulations, including export and import regulations. Without limitation, no portion of Content may be utilised as a trademark or service mark, for any pornographic use, for any unlawful purpose or use, to defame any person, to violate any person's right of privacy or publicity, to infringe upon any copyright, trade name, trademark, service mark or other intellectual property right of any person or entity. You agree that you will not use the Site to produce Products that are offensive, unlawful, harassing, libelous, threatening, harmful, obscene, malicious or otherwise objectionable. Folder King may terminate its service to customers found to be using Folder King to engage in undesirable activities.
You are solely responsible for your use of Content in combination with any other images, graphics, text or other materials you incorporate into your Products. You agree that you will not include any text, image, design, trademark, service mark, or any copyrighted work of any third party in your Products unless you have obtained the appropriate authorisations from the owners. You warrant that your Products do not infringe upon any rights of any third party, including copyright, trademark, right of publicity or privacy, and will not libel or defame any third party, and that you have all required rights or permissions necessary to incorporate third party material into your Products, including any third party material made available via a third party design service which may be accessed via the Site. By placing an order on this Site, you warrant that you have all necessary permission, right and authority to place the order and you authorise Folder King to produce the Products on your behalf. You grant Folder King the right to copy, modify, create derivative works and vectorise any uploaded content (i.e., content you have uploaded) for the purpose of fulfilling your order. Moreover, you warrant that you have sufficient rights to permit Folder King to copy, modify, create derivative works and vectorise any uploaded content for the purpose of fulfilling your order.
The customer agrees that all ownership of printed products transfers to the customer upon shipment. This means that the risk of loss and title for such items pass to you upon our delivery to the carrier. For any Product that is to be provided to the customer in an electronic format, the customer agrees that delivery of such Product shall be deemed to have occurred either (a) at the time we transmit the Product via email or other electronic communication addressed to the customer or (b) at the time we transmit a notification to the customer that the Product is available for downloading from the Site.
General terms 
We will treat all your personal information that we collect in connection with your order in accordance with the terms of our privacy policy; use of our website will be subject to our website terms of use.
Contracts under these conditions of sale may only be varied by an instrument in writing signed by both you and us.  We may revise these conditions of sale from time-to-time, but such revisions will not affect the terms of any contracts which we have entered into with you.
If any provision of these conditions of sale is held invalid or unenforceable by a court of competent jurisdiction, the remaining provisions will remain in full force and effect, and such invalid or unenforceable provisions or portion thereof will be deemed omitted.
No waiver of any provision of these conditions of sale, whether by conduct or otherwise, in any one or more instances, will be deemed to be, or be construed as, a further or continuing waiver of that provision or any other provision of these conditions of sale.
You may not assign, charge,  sub-contract or otherwise transfer any of your rights or obligations arising under these conditions of sale.   Any attempt by you to do so will be null and void.  We may assign, charge, sub-contract or otherwise transfer any of our rights or obligations arising under these conditions of sale, at any time – providing such action does not serve to reduce the guarantees benefiting you under these conditions of sale.
Each contract under these conditions of sale is made for the benefit of the parties to it and is not intended to benefit, or be enforceable by, any other person. The right of the parties to terminate, rescind, or agree any amendment, variation, waiver or settlement under such contracts is not subject to the consent of any person who is not a party to the relevant contract.
These conditions of sale contain the entire agreement and understanding of the parties in relation to the purchase of products from our website, and supersede all previous agreements and understandings between the parties in relation to the purchase of products from our website; and each party acknowledges that no representations not expressly contained in these conditions of sale have been made by or on behalf of the other party in relation to the purchase of products from our website.
These conditions of sale will be governed by and construed in accordance with English law, and the courts of England and Wales will have [non-]exclusive jurisdiction to adjudicate any dispute arising under or in relation to these conditions of sale.
Returns and Refunds 
We will not accept any liability for errors, grammar, spelling or omissions made on artwork approved or supplied by you. If the order arrives damaged, or defected, it is necessary to inform us about this fact within 10 days from delivery.
We reserve a right to ask for samples of damaged or defected goods before we offer a re-print or refund. On the sight of samples we will decide on how to proceed depending on the fault. If we are at fault we will offer a re-print, or partial refund or full refund depending on the error.
Claims received later than 10 days after delivery day might be rejected.
All sales are final since we customise each order according to your request. We give no refunds or credit but if we verify that we made an error, we will re-print your order.
If you cancel a contract and are entitled to a refund, we will usually refund any money received from you using the same method originally used by you to pay for your purchase. We will process the refund due to you as soon as possible and, in any event, within 30 days of the day we received your valid notice of cancellation.
Product Specification
We have a policy of continuous product development and reserve the right to amend the specifications of any goods or products without prior notice in relation to future sales. Products supplied may differ as a consequence of multi-standard colour systems, notably the international screen based colour system of RGB and the print colour system of CMYK. We endeavour to display and describe as accurately as possible the printed colours of our products that appear on the website. However we cannot guarantee that your monitor's display of any colour will accurately reflect the colour of the product delivered.
Quantity Variation
We shall be deemed to have fulfilled our contract by delivery of a quantity within 5% plus or minus of the quantity of printed goods ordered and you will be charged at the contract rate for the quantity delivered.
Folds
A degree of 'cracking' along the spine of scored and creased and card products is normal particularly where a solid colour is printed along the fold. It is strongly advised that a laminate is used to minimise this effect, although a small amount of cracking may still be visible. We will not be liable for any cracking that occurs along scored folds, particularly if the card is unlaminated.
Force Majeure 
We will not be held responsible for failure or delay in the carrying out of our obligations under the contract arising from any cause outside our reasonable control or by inability to procure materials or articles except at higher prices due to any such cause and in such circumstances we shall be entitled by notice to terminate the contract in whole or in part without incurring any liability whatsoever to you.
Liability
Liability for any loss or damage suffered by you in respect of the goods shall be limited to the contract value of the goods, except in such cases which cause death, injury or damage to personal property. We are not responsible for any financial loss suffered by you, including loss of earnings or expenses incurred by you.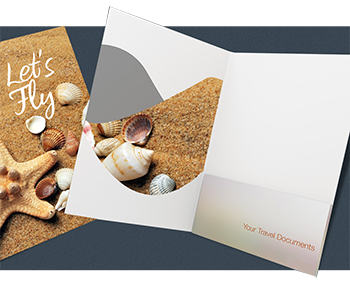 With our short run folders, you can order as few as 5!
Check out our short run products from the main menu.